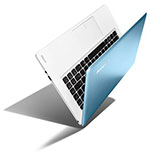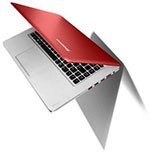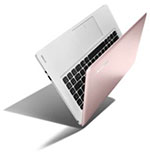 The stylish yet inexpensive IdeaPad U310 & IdeaPad U410 Ultrabooks available in a range of colors, uniquely combine a super-slim design with ultra responsive technologies like Lenovo Enhanced Experience 3 with RapidBoot technology. They come with a 2nd or 3rd gen Intel Core processor and smart features like Lenovo Smart Update that downloads your emails even while on sleep mode. Plus, these notebooks have an extended battery life of up to 9hrs.
Extended battery life for up to 7hrs (U310) or up to 9hrs (U410)
Energy Management protects the long-term durability of the battery and uses advanced energy-saving technology to increase time spent between charges
Energy Management 's Ultra Performance mode enhances CPU performance by up to 25%
Lenovo Enhanced Experience 3 for Windows 7 with RapidBoot lets you start 40% faster than a typical Windows 7 computer
BootShield maintains fast boot performance even after installing multiple applications
Resume from sleep mode in just 1 second
Lenovo Smart Update automatically updates your mailbox, IM and social media messages at regular intervals even while on sleep mode
AccuType keyboard with individual rounded keys for comfortable and accurate typing
Intel Anti-theft technology helps to remotely disable the PC or track it down through GPS or Wi-Fi geo-location; requires third-party service subscription
OneKey Rescue System makes data backup & recovery simple
Intelligent Touchpad: glass touchpad with easy scroll, zoom and rotate functions
VeriFace™ face recognition – a fun way to log in your PC
Download Training Guide on How to Sell Lenovo IdeaPad U310/U410 to boost your sales of Ultrabooks!