Virtual Servers hosting at Microsoft sites
Are these challenges relevant for your company?
● Branch offices and remote employees work with the same database
● Downtime caused by local server or Internet channel failure
● Need to protect critical servers against theft and withdrawal
● Lack of servers for solutions tests by internal developers
● Peak loads slow down the work occasionally
● No budget for purchasing a new server
● Seasonal activity requires rental computing power
There is a solution. Deployment of virtual servers on Microsoft Azure.
●Rent servers and licenses on hourly basis
● Microsoft Datacenters are well secured against attacks and failures
● High variety from simple machines to high-end graphic workstations
● Resources auto scaling for peak periods
● No payment for disabled virtual machines.
Microsoft Azure Virtual Machines is how you get compute power – servers that scale on-demand in the cloud.
They may be used for a wide range of different solutions including development, testing and running applications, extending your datacenter and hosting your website. It's as if it was another rack in your datacenter without the need to maintain this equipment.
Business processes are accelerated. No obstacle for app developing and testing any more due to lack of hardware. Any resources are ready in Azure immediately that reduces operational cycle significantly.
Cost are reduced. No need to pay for infrastructure modernization and maintenance as well as for reserve equipment. Payment only for used resources. Disabled VMs cost nothing.
Risks are mitigated. Allocated Azure resources can be increased or reduced instantly depending on use case. Cloud scalability lets to grow from one to thousands of virtual machine instances and eliminates the need to purchase extra hardware for later.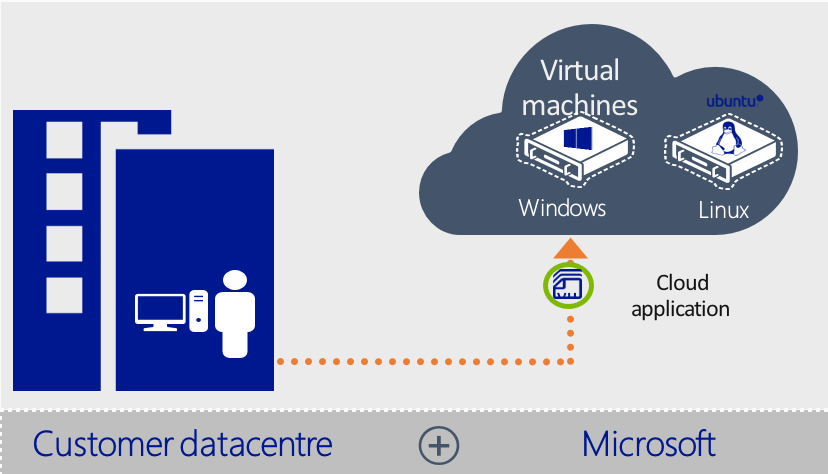 Azure Virtual Machines are designed for all budgets and workloads, starting from economical series to the newest GPU VMs optimized for machine learning.
A and B Series
An economical option for development workloads, test servers, and other applications.
D Series
Feature SSDs and 60% faster processors than the A-series. Ideal for apps that need faster CPUs, better disk performance, or higher RAM
DV2 Series
Optimized Compute: 35% faster than D series, latest generation of CPU
F-Series
●2GB RAM and 16 GB of local solid state drive (SSD) per CPU core.
●Optimized for compute intensive workloads.
●Suitable for scenarios like batch processing, web servers, analytics and gaming.
G Series
Featuring the latest Intel Xeon processors, twice the memory and four times the Solid State Storage of the Dv2 builds which makes this tier the ideal choice for your most demanding applications.
H Series
Specifically designed to handle high performance computing workloads such as financial risk modeling, seismic and reservoir simulation, molecular modeling and genomic research.
N Series
N-Series instances are enabled with NVIDIA's cutting edge GPUs to allow you to run GPU- accelerated workloads and visualize them.
Azure Premium Storage
Comes with specially designed virtual machines that use new caching technologies to provide extremely low latency read operations to further enhance performance.