Keep up with Lenovo - the leading PC company in the World!
Lenovo ousts HP as world's top PC maker says Gartner at BBC World
Two analyst reports came out yesterday. Gartner said Lenovo is now the #1 PC company in the world with its share increased to 15.7 % while HP's global PC share was at 15.5 percent (Table 1).
In addition to acquiring other vendors, Lenovo has also taken an aggressive position on pricing, especially in the professional market. As a result, Lenovo has achieved significant market share gains over the last two years, exceeding regional average growth rates across all regions.
Table 1: Preliminary Worldwide PC Vendor Unit Shipment Estimates for 3Q12 (Units)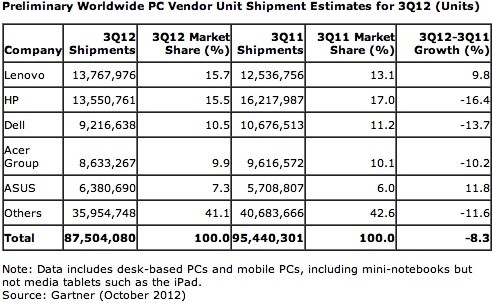 Although IDC is counting workstations and kept HP in its usual lead. Read the full article here: http://lnv.gy/USmwp2