HCI

Dell EMC VxRail VXRAIL transforms HCI Networking and enhances simplicity for the VMWARE Cloud
Agility is a key element to accelerating IT transformation. Hyper-converged is a key contributor to enabling agility. A recent survey by industry analyst firm ESG illustrates that the vast majority of organizations that have adopted, 87%, say that HCI has made their organization more agile. The result is they are deploying HCI for a wider variety of workloads, with most running 20% or more of their apps on HCI.
Dell EMC VxRail™ accelerates and simplifies IT through standardization and automation. With VxRail, you don't just deploy a server, you transform your Infrastructure.
The VxRail Appliance Advantage
Dell EMC VxRail invests in the complete lifecycle, including advanced automation, making it easier for you from day one forward, allowing you to further simplify IT infrastructure and operations. VxRail Appliances on next gen PowerEdge servers are refined, optimized, and robust platforms that help you simplify your entire IT lifecycle – from deployment, to management, to scaling, to maintaining.
VxRail is the only fully integrated, preconfigured, and tested HCI appliance powered by VMware vSANTM and is the standard for transforming VMware infrastructures. VxRail provides a simple, cost effective hyper-converged solution that solves a wide range of your challenges and supports almost any use case, including tier-one applications and mixed workloads. Dell EMC enables faster, better, and simpler delivery of virtual desktops, business-critical applications, and remote office infrastructure.
• Proven to dramatically reduce OPEX, delivering up to 52% lower cost of operations over build your own HCI while integrated end-to-end support reduces unplanned downtime by 90%
• Based on 14th generation PowerEdge, a server platform that is uniquely designed and optimized for HCI, VxRail delivers the utmost flexibility and millions of configuration options enabling 2x more IOPS and half the response time – sustained at sub-1ms
• Supports any HCI use case, including SAP HANA, file, graphics-intensive VDI, big data and analytics, remote office, and high performance computing
• Industry-leading enterprise data services, including HCI-native data-at-rest encryption replication, backup, and file services make VxRail ready for almost any application or workload. All-flash models can leverage compression, deduplication, and erasure coding for further efficiency
• For edge implementations two-node direct connect makes VxRail more accessible. Multi-node scaling, storage capacity expansion, mixed generation PowerEdge clusters, and flexible vSAN licensing enable adaptable growth that meets business demands
• Automated deployment and lifecycle management of HCI infrastructure including networking through VxRail Manager
• Single point of global 24x7 support for both the hardware and software.

VxRail on 14th Generation PowerEdge Servers
VxRail on 14th generation PowerEdge offers next-generation technologies that accelerate IT transformation and future proof your infrastructure.
NVMe cache drives support enhanced performance from fast-caching technology while SATA SSD capacity drives provide a more affordable all-flash entry-point. With the latest Intel® Xeon® Scalable processors including high memory options, VxRail is the most configurable HCI appliance, delivering 2x more memory. When it comes to connectivity, VxRail has options ranging from 1 GbE up to 25 GbE network offering the most aggregate bandwidth in the HCI appliance market and allowing it to integrate into data centers and remote sites easily. For scaling high performance virtual graphics and compute, the NVIDIA Tesla P40 GPU supports 2x graphics acceleration performance and 50% more users per board.
Scalability and Management
For edge implementations, two-node direct connect, now available with VxRail, makes VxRail and HCI more accessible to more organizations, while delivering the same enterprise features and VMware management alignment. Mixed generations of hardware in the same cluster, non-disruptive scaling and storage expansion provide a simple, predictable, "pay-as-you-grow" approach for future scale up and out as your requirements evolve. Additionally, enterprise capabilities such as batch node expansion, REST APIs, and flexible object renaming, accelerate growth, save time and ensure VxRail complies with data center policies.
SmartFabric, now available on Dell EMC OS10 Enterprise Edition switches, offers autonomous fabric deployment, expansion, and lifecycle management to reduce time-to-market by simplifying and automating network configuration in VxRail deployments. VxRail and SmartFabric, is the first solution to deliver fully automated network awareness and configuration during set up, cluster expansion, and during day-to-day management.
VxRail offers 100% operational transparency between VxRail Manager and vCenter, meaning day-to-day, all virtualization management is done within the familiar vCenter Server interface. Additional IT and Cloud automation can be provided with optional software like VMware's vRealize Operations and vRealize Automation allowing you to seamlessly integrate VxRail as the foundation of your data center infrastructure, as well as advanced cloud-enabling technologies such as VMware Cloud Assembly.
VMware Validated Design (VVD) for Software-Defined Data Center (SSDC) on VxRail
With the VVD for SDDC on VxRail, you can more easily architect, implement, and operate a complete SDDC faster and with less risk while also obtaining all of the benefits of best of breed HCI infrastructure. The best way to deploy the VMware SDDC is by using the VVD on VxRail which provide comprehensive and extensively tested blueprints based on a suite of VMware products.
Data Services, Security and Resiliency
Enhanced security includes new automated hardening scripts and VxRail Security Technical Implementation Guide (STIG) to harden the storage, virtualization, and networking infrastructure components that VxRail manages for customers who want to comply with DISA STIG requirements, as well as a new VxRail Security Configuration Guide.
Based on synchronous software delivery with VMware, VxRail is powered by current versions of vSphere 6.7 U1 and vSAN software, while delivering vSAN encryption at the cluster level. VxRail supports 2-factor authentication (SecurID and CAC), allowing you to avoid limited options and high cost of self-encrypting drives. vSAN encryption is built for compliance requirements and simple key management with support for all KMIP compliant key managers.
Optional Data Protection Suite for VMware extends included data protection features with the industry's broadest capabilities, including backup and recovery, continuous data protection, monitoring and analysis, and search. With a single point of global 24x7 support for both the hardware and software, and backed by ESRS for dial-home secure remote connection for monitoring, diagnosis, and repair, VxRail provides the ultimate appliance support.
Dell EMC VxRail Data Sheet
© 2018 Dell Inc. or its subsidiaries.
---
DELL EMC XC SERIES OF HYPER-CONVERGED INFRASTRUCTURE APPLIANCES
The Dell EMC™ XC Series of hyper-converged appliances integrates our 14th generation PowerEdge server platform and Nutanix software to provide enterprise-class, infrastructure solutions for virtualized environments. Backed by Dell EMC's Global Service and Support organization, these 1U, 2U and 3U appliances consolidate compute and storage into a single platform enabling application and virtualization teams to quickly and simply deploy new workloads. This solution enables data center capacity and performance to be easily expanded — one node at a time — delivering linear and predictable scale-out expansion with pay-as-you-grow flexibility.
XC Series Appliances incorporate many of the advanced software technologies that power leading cloud infrastructures and include key features such as:
• Hyper-converged – Seamlessly integrates server and storage resources in a self-healing system
• Hypervisor choice - your choice of factory-installed hypervisor
• Scale-out – Increase performance and/or capacity one node at a time, even across multiple generations
• Automation and analytics – Extensive automation and rich system-wide monitoring
Designed to simplify IT
XC Series Appliances simplify the deployment of virtual machines in any environment. The Nutanix Acropolis Operating System runs in a Controller VM (CVM) on each node, aggregating storage resources (hard disk drives and flash storage) across all nodes. This pooled storage is made available to all hosts through a fault-tolerant architecture. With an unrivaled ability to run VMs out of the box, XC Series Appliances deliver an easy, modular approach to building modern data centers.
Ideal for virtualized workloads
XC Series Appliances are excellent solutions for all enterprise workloads and applications running in virtual environments. Preconfigured appliance options with flexible ratios of compute and storage including all flash configurations, coupled with support for Microsoft® Hyper-V®, Nutanix AHV and VMware® ESXi™, make them ideal for running different workloads on the same platform in your data center. They can be easily deployed into any data center in less than 30 minutes and can support multiple virtualized, business-critical workloads including VDI, private cloud, database, OLTP and data warehouse as well as virtualized big data deployments.
Intuitive and powerful management interface
The Nutanix Prism Central management framework provides a highly intuitive, easy-to-use graphical user interface (GUI). All information is organized and presented through elegant touch points to facilitate easy consumption of operational data. Prism provides the ability
to define and manage a complete hyper-converged infrastructure from nearly any device and includes REST APIs for integration with third-party cloud management systems. It also gives administrators a bird's eye view of resources across multiple clusters running different hypervisors and enables them to manage individual clusters using the GUI or a Windows PowerShell command-line interface.
Adding value to Nutanix software
Dell EMC has over 10 years of experience integrating hardware and software for appliances built with PowerEdge servers. That experience enabled us to develop technologies that simplify and streamline common workflows performed throughout the appliance's lifecycle. It starts with factory installation of the software stack and hypervisor of choice and pre-configuration of system settings to maximize performance of the Nutanix software. Other examples include software modules that deliver fast and seamless deployment, rapid factory restore and bare metal recovery, rich in-band hardware monitoring and management capabilities, and components developed specifically for HCI to simplify workflow orchestration across a cluster.
XC Series also incorporates optimizations for Microsoft Windows 2016 Hyper-V plus Azure including one-click hypervisor updates. The XC Series Azure Log Analytics Solution provides integration of XC Series into customer's OMS-based data center automation tools, enabling insights such as trend analysis and behavioral anomaly detection.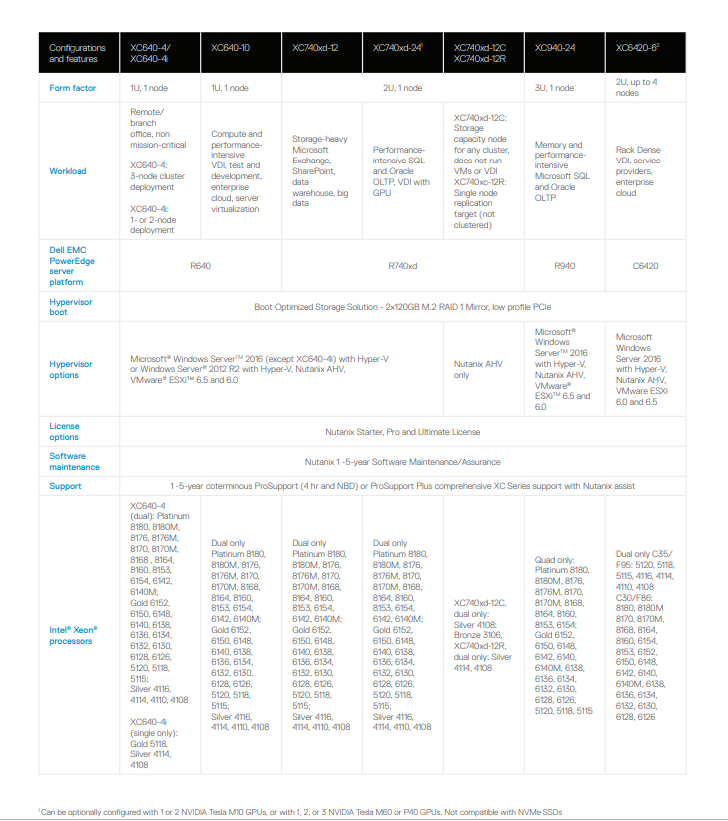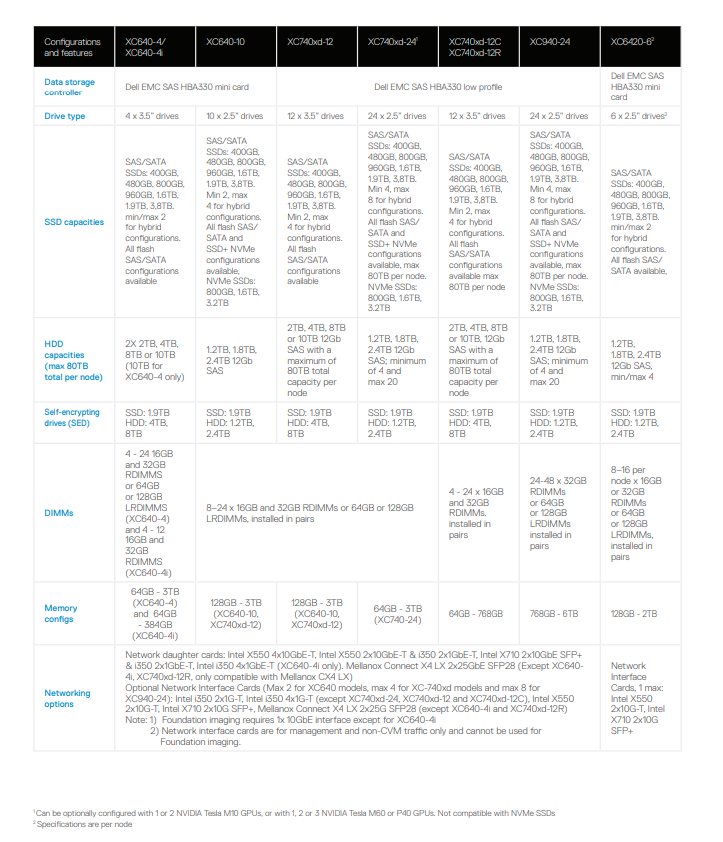 Dell EMC XC Series support and deployment services
Dell EMC's trusted ProDeploy and ProSupport offerings encompass the full lifecycle experience for XC Series customers. ProDeploy provides full service installation and configuration of both hardware and system software by Dell EMC certified deployment engineers. The ProSupport teams for XC Series are specially trained to address the needs of HCI customers. Automated proactive and predictive tools and technologies help avoid issues and get faster resolution. ProSupport experts are always accessible 24x7x365 by phone, email, chat and social media across 124 countries and 55 languages served by more than 1,000 parts distribution centers.
End-to-end technology solutions
Reduce IT complexity, lower costs and eliminate inefficiencies by making IT and business solutions work harder for you. You can count on Dell EMC for end-to-end solutions to maximize your performance and uptime. A proven leader in Servers, Storage and Networking, Dell EMC Solutions and Services deliver innovation at any scale. And if you're looking to preserve cash or increase operational efficiency, Dell Financial Services™ has a wide range of options to make technology acquisition easy and affordable. Contact your Dell EMC Sales Representative for more information.
DELL EMC VXRACK FLEX
FOR HIGH PERFORMANCE DATABASES AND APPLICATIONS, MULTI-HYPERVISOR AND TWO-LAYER ENVIRONMENTS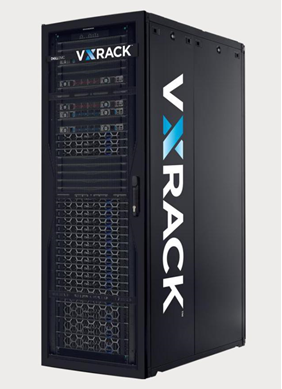 Modular hyper-convergedinfrastructure system that delivers extreme performance, resiliency and flexibility
ESSENTIALS THAT DIFFERENTIATE VXRACK FLEX
FLEXIBILITY
• Flexible architecture allows multi-OS, multi-hypervisor and bare metal options in the same cluster
• Deployment options include two-layer or HCI, compute or storage only, or mix and match
LINEAR SCALABILITY AND ELASTICITY
• Start small and grow incrementally with no bottlenecks or resiliency tradeoffs
• Scale compute and storage independently (or together) for minimum TCO
• Linear scalability delivers consistent performance and latency
PREDICTABLE HIGH PERFORMANCE AND RESILIENCY
• Reliable, repeatable, fast rebuilds deliver 6x9's Tier 1 resiliency
• Predictability even in mixed workloads with high variability
• Even better performance and resiliency as you scale
FULL STACK ARCHITECTURE SUPPORT
• Ability to take M&O to the network level
• Single source of support for both hardware and software
VXRACK FLEX NETWORKING BENEFITS
• Standardized and repeatable
• Easily extensible
• Greatly simplifies operations
• Lowers risk
• Superior application performance at scale
|
Dell EMC VxRack FLEX is a Dell EMC engineered and manufactured rack-scale hyper-converged system that delivers an unmatched combination of performance, resiliency and flexibility to address enterprise data center needs.
Only Dell EMC hyper-converged systems provide standardization, modular scale, tightly integrated converged solutions, life cycle management, and industry-best customer experience.
VxRack FLEX creates a server-based SAN by combining virtualization software, known as VxFlex OS, with Dell EMC PowerEdge servers to deliver flexible, scalable performance, and capacity on demand. Local storage resources are combined to create a virtual pool of block storage with varying performance tiers. The architecture enables you to scale from as few as four nodes to over a thousand nodes. In addition, it provides enterprise-grade data protection, multi-tenant capabilities, and add-on enterprise features such as QoS, thin provisioning, and snapshots. VxRack FLEX delivers the scalability, flexibility, performance, and time-to-value required to meet the demands of the modern enterprise data center.
HIGH PERFORMANCE APPLICATIONS AND DATABASES
Organizations moving to hyper-converged are often worried that it will not deliver the performance they need. VxRack FLEX with VxFlex OS can deliver millions of IOPS at consistant submillisecond response times. Every node in the VxRack FLEX cluster is used in the processing of I/O operations, making all I/O and throughput accessible to any application within the cluster. Such massive I/O parallelism eliminates performance bottlenecks. Throughput and IOPS scale in direct proportion to the number of nodes added to the system, improving cost/performance rates with growth. The high performance is desired for databases and applications but also is a key factor if rebuilds and rebalances are needed. These all occur in the background with minimal or no impact to applications and users. The VxRack FLEX system automatically manages and optimizes data layout, preventing performance hot spots. These are the special VxFlex OS features that make enterprises rely on VxRack FLEX without worrying about transitioning to HCI for their mission critical databases and applications.
Dell EMC lab testing results demonstrate:

MULTI-HYPERVISOR AND BARE METAL OPTIONS
VxRack FLEX offers VMware® vSphere and Red Hat Virtualization integration as an engineered system, alongside the ability to support other hypervisors through bare-metal configurations*. This unique ability provides workload flexibility and gives organizations choice if requirements change as new projects and workloads arise.
Enabling different nodes to run different hypervisors, all while sharing the same storage pool, allows independent upgrades and shifting to different virtual environments as needed.
FLEXIBLE DEPLOYMENT OPTIONS
VxRack FLEX offers flexibility in deployment options:
HCI/single-layer architecture: An HCI model, where compute and storage reside within the same server, creates a single-layer architecture and offers the best TCO savings while allowing you to modernize your data center with greater efficiency.
Two-layer model: Redesign your storage environment using a traditional two-layer model to resemble a traditional SAN architecture (unlike the HCI model where application and storage reside on same nodes). A two-layer model provides efficient parallelism and no single points of failure. Additionally, storage and compute nodes remain separate operationally, giving teams the flexibility to manage each infrastructure component independently. And if an organization is compute heavy or storage heavy, two-layer allows them to scale each component independently, avoiding the worry of unused resources.
START SMALL AND GROW AS BIG AS YOU NEED
VxRack FLEX enables superbly flexible scale-out capabilities for your data center. As compute and storage resources are consumed, add nodes one by one within a single rack, or scale by adding entire racks. VxRack FLEX provides your infrastructure with unparalleled elasticity and scalability. Start with a few nodes for your proof of concept or new application and grow as your requirements evolve – even to web-scale size.
INTEGRATED NETWORKING
A hyper-converged network can be complex to design, build, and scale, and many solutions simply exclude it, placing the burden on customers. Ignoring the network makes it very difficult to plan for growth and as the environment scales, performance degrades.
VxRack FLEX encompasses complete support for the unique requirements of hyper-converged networking. Integrated Top of Rack (ToR), Aggregation, and Out-of-Band Management switches provide optimal network traffic flow. As the VxRack FLEX system scales, the east-west traffic is fully contained within the system, reducing the need for network expertise and changes outside of the solution.
When designing a network, oversubscription, spine density, switch ports, high density, low density, and wire rates are just a few of the many technical details that need to be considered. VxRack FLEX is designed with industry best practices and best-in-class Cisco Nexus Aggregation switches that provide 10/40 GbE IP uplink connectivity to the external network for superior performance. Unlike other solutions in the market, where network bottlenecks limit the scale of hyper-converged infrastructures, the 10/25 GbE ToR switches within the VxRack FLEX eliminate these restrictions and provide a path for future growth.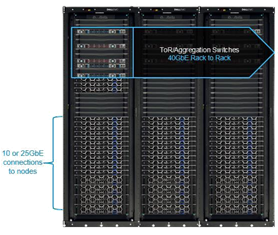 DELL EMC POWEREDGE SERVERS
Because business applications and workloads vary greatly, Dell EMC strongly believes that one size does not fit all when it comes to hyper-converged infrastructure (HCI). With an unmatched HCI portfolio, Dell EMC enables IT organizations to accelerate their modernization initiatives by making it easy to deploy infrastructure platforms on which they can build and run both traditional and cloud-native applications. Integrating the latest 14th generation PowerEdge servers with Dell EMC HCI offerings is another example of the power of the combined companies. Dell EMC's ability to deliver the entire hyper-converged infrastructure stack (from software through servers to storage) provides even more customer value, enabling faster innovation while leveraging Dell's world-class supply chain to drive down costs. IT organizations can now partner with a single vendor for technology solutions that will modernize their data center.
VxRack FLEX, built on 14th generation PowerEdge servers, provides better all-flash economics, improved performance, and workload flexibility to address new customer use cases for both traditional and cloud-native workloads running in mixed environments.
For VxRack FLEX, two PowerEdge-based options are available (1U/1N based on PowerEdge R640; 2U/1N based on PowerEdge R740xd), both of which can be configured with SSD (all-flash) options. VxRack FLEX on the latest PowerEdge servers provide:
• 2.5x more IOPS per node
• 250% more bandwidth
More storage speed with NVMe
• 4x memory per node using LRDIMMS
• Up to 20% more cores per node
34% more virtual machines per node
Specifications
Table 1: System components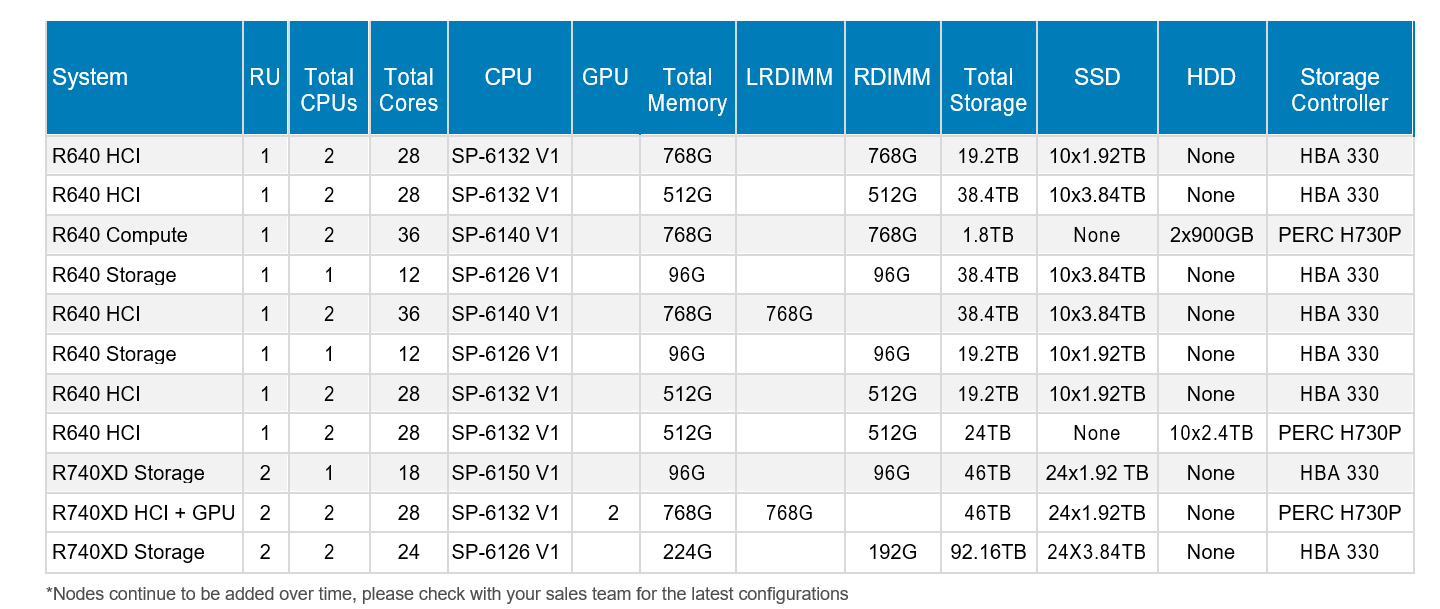 MANAGEMENT AND OPERATIONS
VxFlex Manager
VxFlex Manager is a comprehensive IT Operations Management (ITOM) software purpose built for VxRack FLEX to automate and simplify implementation, expansion and lifecycle management.
VxFlex Manager brings together multiple management consoles, workflow automation and an intuitive interface that allows customers to monitor, manage, deploy and maintain physical and virtual resources with the click of a button. Key tenets of the new VxFlex Manager architecture includes:
System assurance: RCM updates and non-disruptive remediation
Insights: Monitoring, alerting, and health checks
Simplification of implementation: Simplified and automated system deployment and workflows Deploy and scale two-layer deployments on RHEL based storage nodes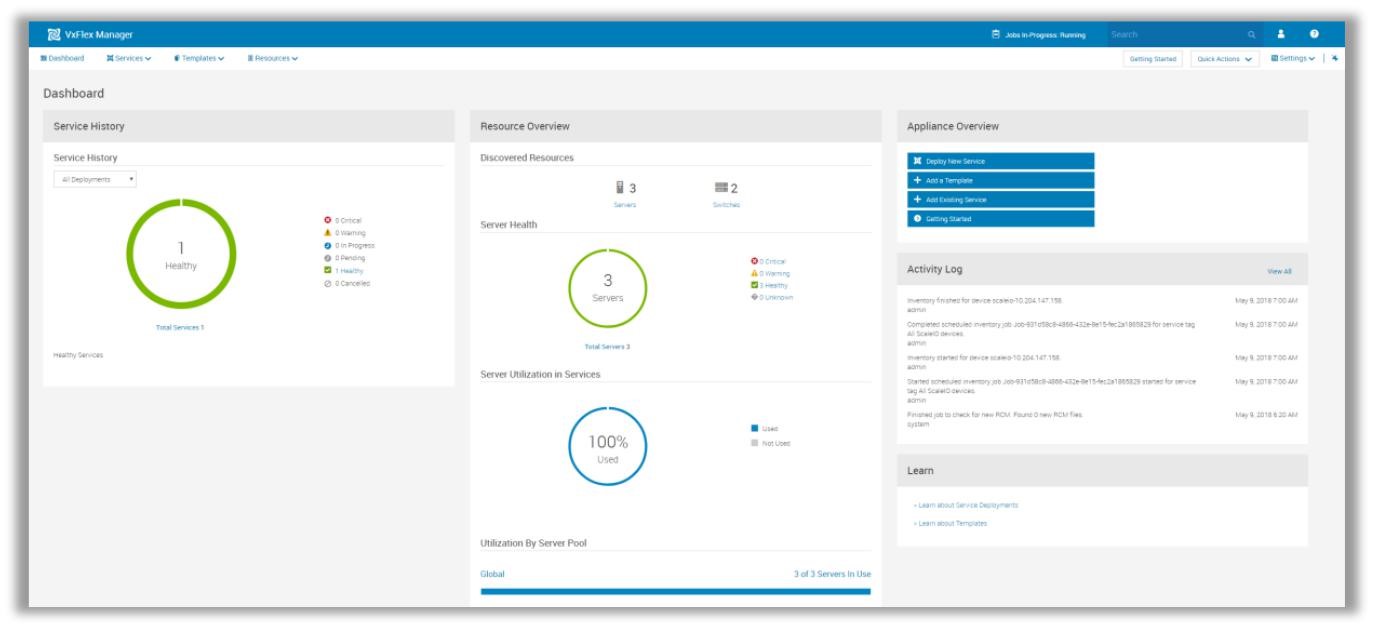 VxFlex Manager provides alerting and monitoring on node hardware (Dell EMC PowerEdge servers). These monitoring capabilities proactively detect errors and when connected to Dell EMC Secure Remote Support (SRS), provide remote alerting and protection for system nodes. Remote monitoring enables you to easily establish a stateless compute environment so you can achieve greater agility and control of your server node resources. When node maintenance operations are required, or in the case of a disaster recovery incident, failures are quickly identified and Dell EMC Support is informed immediately for speedy resolutions. This proactive alerting and automated technical support means less time is spent troubleshooting so more time can be spent addressing business priorities.
By leveraging a powerful reporting engine, customized reports are also available and provide easy access to specific node information as needed.
The VxFlex Manager architecture delivers a wide range of services to support VxRack FLEX including nodes, switches, VxFlex OS, and other hypervisors. It also supports the latest 14th generation node configurations. With VxRack FLEX, it has never been easier to help your customers advance their HCI strategy.
SUMMARY
VxRack FLEX is an HCI offering that can replace an enterprise grade SAN using Dell EMC PowerEdge servers and intelligent software. VxRack FLEX exhibits balanced and predictable behavior, allows for varying performance and capacity ratios, decouples the scalability of compute and storage resources, and can scale enormously and non-disruptively.
VxRack FLEX provides a completely distributed pool of storage capacity and performance. It delivers consistent IOPS and latency, eliminating hotspots—no matter the workload.
DELL EMC EXPERIENCE
Dell EMC is a leading innovator of intelligent converged and hyper-converged infrastructure systems. Dell EMC Systems are engineered to deliver the highest performance, operational simplicity, and scalability for the lowest TCO. Every system is a true converged infrastructure—each is engineered, manufactured, managed, supported, and sustained as ONE product.
Dell EMC Systems are standardized architectures based on best-in-breed technologies.
Dell EMC manufacturing completes integration, testing, and validation of every Dell EMC VxRack FLEX. This ensures that it is delivered within 90 days and is operational within hours of arrival.
Dell EMC uses a process known as the Logical Configuration Survey (LCS) to customize integration and deployment. All system elements are pre-integrated, pre-configured, then tested and validated before shipping. Turnkey integration allows you to operate and manage your system as a single engineered product, rather than as individual, siloed components. Ongoing, component-level testing, and qualification result in a drastically simplified update process. The result is significant time and resource savings throughout the system life cycle, allowing you to focus your resources on business innovation.
Every VxRack FLEX is sustained by a Release Certification Matrix (RCM), a documented set of firmware and software releases for all VxRack System components that are pre-tested and certified for interoperability, and regularly delivered to customers to simplify upgrades and keep systems stabilized and optimized.