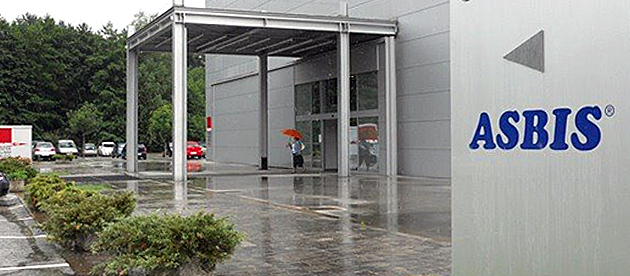 ASBISc Enterprises PLC (WSE: ASB) - leading Value Add Distributor, OEM, и Solutions Provider of IT, IoT, IoT, AI across CEE, FSU, MEA invites to take part in the competition for the below vacancies:
Business Development Manager Servers
Requirements:
Higher education (technical will be an additional advantage);
Knowledge of English at the level of Pre-Intermediate and above;
Experience in IT from 2 years; • practical experience in promoting and selling servers and / or storage systems of at least one of the leading manufacturers (Cisco, Dell EMC, Fujitsu, HDS, HPE, Huawei, IBM, Lenovo, NetApp, Nutanix, Oracle, etc.);
Experience in negotiating and presenting solutions;
Ability and willingness to communicate with top officials of partner companies, as well as customers;
Initiative, ability to work effectively both independently and in a team.
Duties:
Formation and expansion of the partnership base, establishing strong personal contacts with partners and representatives of manufacturers;
Promotion of Servers solutions, negotiations;
presentations and consultations on a product line for partners and customers;
selection of the optimal solution for the customer's tasks, preparation of specifications, pricing, project management, preparation of tender requirements;
participation in the organization and conduct of marketing and training events;
Implementation of the sales plan for Servers.
Working conditions:
Full time work day
Official employment
Salary based on interview results
Please send your cv via email at hr@asbis.com.cy
Key Account Manager
Requirements:
Proven sales skills, willingness to achieve assigned revenue and profit targets
Strong analytical, planning and execution skills
Experience in channel development in Enterprise segments with a demonstrable (proven) track record of developing strong relationships with customers
Proven track records of working with system integrators or/and big customers.
Excellent personal presentation and communication skills
Ability to work independently and as part of a team
IT market understanding, experience, and ability to deliver new and effective business opportunities for the Company
IT literacy - including Word, Excel and PowerPoint
Fluent English
The main responsibilities of the positions are connected mainly with the key clients of Asbis:
Analyze the behavior and needs of the clients and monitor opportunities to increase sells of Asbis
Maintain relationship with clients/partners via email , phone and meetings on daily/weekly/monthly basis
Collects information and feedback from clients about ongoing and future projects
Coordinates projects related to partnerships with other departments within the company to ensure timely execution
Monitor the availability of products with each partner on a weekly and monthly basis
Looking for new clients and increasing the sells to existing with new products.
We offer:
To be part of global company with more than 30 years history.
Attractive and motivating salary, depending on your qualification, abilities, and professional experience.
The chance to work with other dedicated professionals on building the future of technologies.
Real opportunities for promotion and a salary review based on your performance.
Open, friendly and supportive team atmosphere.
IT Technician
ASBIS KYPROS LIMITED invites you to participate in the competition for the vacancy of IT Technician.
Responsibilities:
End to end customer support (receipt of devices, repair, quality control, customer support)
Technical support installing and configuring computer hardware and software programs
Liaise with vendors and other IT personnel for problem resolution
Parts ordering, warranty claims to vendors, control and execution
Requirements:
Solid experience in hardware repairs (Laptop, servers, PCs, etc)
Experience in IT software applications
Degree in Computer Science, Computer Engineering or a related subject, will be considered as advantage
Experience in electronics repairs, will be considered as advantage
Able to work under pressure and handle emergency situations effectively
Excellent written and spoken English
We offer:
Location - Limassol, Cyprus
Possibility of personal and professional development
Dynamic work environment of international company
Office Administrator
ASBIS KYPROS LIMITED invites you to participate in the competition for the vacancy Office Administrator.
Office Administrator will co-run the Company's front desk and will be expected to perform the administrative tasks.
Main responsibilities:
General administration and receptionist duties, including but not limited to answering and re-directing telephone calls,
managing office supplies, booking conference rooms for meetings, keeping records on office maintenance,
communication with different suppliers and vendors and control of expenses etc.;
Preparation/drafting and typing of various documents, arranging approval, signing;
Organizing and maintaining records (e-filling and filling);
Preparation of proforma invoices for the customers (as per sales team instructions), collection of outstanding
receivable balances;
Management of the petty cash and bank accounts of the entity (e.g. keep up to date the bank statements);
Management of clients' data in the system;
Booking of purchase invoices;
Providing other clerical support to the Management and employees of the company as required.
Requirements:
High School Graduate, secretarial/accounting studies are considered an advantage.
Fluent in Greek and English languages, written and spoken.
Knowledge of basic accounting principles is considered an advantage.
Personal features:
High level of organizational and communicational skills, ability to multi-task and taking responsibility, attention to detail,
punctual, disciplined and well organized.
Additional Information:
Dear applicant,
ASBIS is an equal opportunities employer. ASBIS offers competitive salaries and a multicultural working environment. If you are motivated by the prospect of an international career with a dynamic and forward-thinking company, we want to hear from you.
Please send your CV to e-mail: hr@asbis.com.cy. All applications are maintained in strict confidence. Due to high volume of CV's received only successful applicants will be contacted.
Please be informed that the General Data Protection Regulation (GDPR) No. 2016/679 of 27 April 2016, adopted by the European Parliament, the Council of the European Union and the European Commission, came enter into force on 25 May 2018. In accordance with the GDPR, we need your consent to the processing of personal data for further cooperation.
Responding to the vacancy and sending your CV to the company "ASBISC Enterprises PLC", registered and operating under the laws of the Republic of Cyprus, registration number HE 75069, registration address: Diamond Court, 43 Kolonakiou street, Agios Athanasios, 4103 Limassol, Cyprus phone: +357-25-857-000В (the "Company"), you agree that the Company will process your personal data provided in your CV. Please as well print the attached draft of the consent on personal data processing, fill, sign it and send to us together with your CV.
Please note that if you will not provide us with the mentioned consent, it means that we cannot process your personal data and consider you as a potential candidate.
For more information, please contact us via email: hr@asbis.com.cy
Do you have the desire and ambition to lead the process of launching new innovative Enterprise Storage vendors i? Our VAD team is expanding so we are looking for BDM in Enterprise Storage. It is a great opportunity if you are looking for challenges and professional development.
Product Line Sales Manager in Enterprise Storage
ASBIS a subsidiary of ASBISC Enterprises PLC (WSE: ASB), leading Value Add Distributor, OEM, and Solutions Provider of IT, IoT, IoT, AI across CEE, FSU, MEA, invites to participate in the competition for the vacancy of Business Development Manager in Enterprise Storage

Requirements:
Higher education. Technical will be an additional advantage
Knowledge of English at the level of Pre-Intermediate or above
Experience in IT from 4 years. Experience of work in companies of System Integrators, representatives of Vendors or top End Users will be an additional advantage
Practical experience in promoting and selling of storage systems from at least one of the leading vendors like Dell EMC, NetApp, HPE, Fujitsu, Hitachi Vantara, Huawei, IBM and so on
Experience in negotiating and Enterprise solutions presenting
Ability and willingness to communicate with C-levels of partner companies, as well as end users
Initiative, ability to work effectively both independently and in a team
Duties:
Promotion of Enterprise Storage solutions from ASBIS portfolio (Pure Storage, Seagate Storage and others)
Formation and expansion of the partner network, establishing strong personal contacts with key resellers and representatives of vendors
Presentations and consultations on a product line for resellers and end users
Selection of the optimal solution for the customer's tasks, preparation of specifications, pricing, project management, preparation of tender requirements
Participation in the organization and conduct of marketing and training events
Implementation of the sales plan for Enterprise Storage
Working conditions:
Full time working day
Salary based on interview results