BlackBerry AtHoc empowers organizations and people to communicate and collaborate in times of crisis

Communicate critical information among organizations, their people, devices and external entities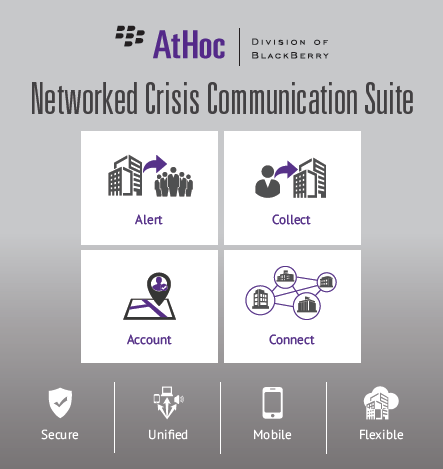 BlackBerry AtHocTM delivers security when it matters most
Be ready for anything when every second counts
With BlackBerry AtHocTM, organizations can safely and securely communicate with their people, people with organizations, and organizations with other organizations through all devices from mobile apps to sirens and from desktop to fire panels.
BlackBerry AtHocTM protects millions of people in thousands of organizations from leading corporations to healthcare institutions and universities to government agencies worldwide.

With Blackberry AtHocTM solution, you can achieve the most immediate and effective response to events within your walls or in your community.
• When you need communications that can be accessed by all
• When you need to know an alert has been received
• When you need to improve the speed of reactions
• When you need to focus on safety
BlackBerry AtHocTM leverages the power of mobility, hybrid cloud and the IP network to deliver a unified and secure end-to-end solution capable of real-time collaboration.
---
SOLUTIONS ADVANTAGES
• Effective collaboration
Enable secure, two-way communication across a network of organisations to facilitate a comprehensive and joined-up incident response
• Secure public warning system
Meet the demands introduced by the European Electronic Communications Code (EECC) that has an implementation deadline of 2022
Slow and error-prone manual processes are transformed through automation, thereby reducing the resource hours needed to achieve basic tasks
With all charges for making calls and sending texts, no matter how many or to whom, covered within the license fee, there are no additional costs for the duration of the license
It's blue-light, public sector, and enterprise ready, with Software-as-a-Service (SaaS) or hybrid deployment options and straightforward integration into existing systems
• Customized to your needs
Specific communication protocols and processes can be quickly adopted through a tailored setup – and supported by controls that facilitate on-going improvements when needed
As a proven government-grade platform, it's already tried and trusted by numerous metropolitan, defence, and public sector organisations
---
HOW IT WORKS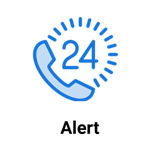 Notify Anyone, Anywhere, on Any Device
BlackBerry AtHoc AlertTM is a comprehensive end-to-end emergency notification capability that unifies all communication modalities to alert everyone you care about with a single click. Using a single web-based console or smartphone/tablet app, emergency managers can provide two way communication across the entire enterprise or community to virtually any device with real-time speed and assured reach.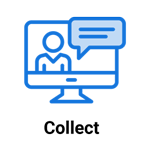 Gather Critical Info From Your People to Achieve Situational Awareness
BlackBerry AtHoc CollectTM empowers you to gain greater awareness and make better decisions by enabling your field personnel to be the eyes and ears of the operations center. Give personnel in the field the ability to report events with rich geo-tagged media reports, plus a oneclick "panic" button to report emergent situations for rapid response. This provides the operations center greater situational awareness at any incident scene, enabling rapid mobilization for a more effective response.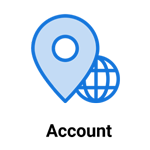 Gain Real-Time Visibility Into Your Personnel Status and Location
BlackBerry AtHoc AccountTM enables real-time visibility into personnel location and safety status for effective crisis handling and response. An operations center or organizational leadership uses Account to request status from select groups or the entire populace, including sponsored recipients such family members. This is an ideal tool to account for people post emergencies, recall personnel and conduct daily mustering to gain actionable insights from your personnel. Emergency management teams are provided an accurate summary view or detailed delivery report of each person's status across the enterprise.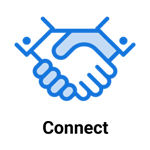 Communicate and Collaborate with Other Organizations
Emergencies, even small ones, do not happen in isolation. BlackBerry AtHoc ConnectTM bridges the communication gap between organizations during these events. It allows organizations to share authoritative information with external targeted organizations, agencies and the public in real-time during crises. This empowers the connected community to collectively assess situations and provide a coordinated response to protect lives and property.
"We have a very, very good system. We're very proud of our Code Maroon system. It is a very robust system and we are adding methods as we go."
— Charley Clark, Risk and Compliance Vice President, Texas A&M University
"We deployed AtHoc in a centralized fashion across the command in order to benefit from faster emergency responses, improved consistency across the numerous locations and increased visibility for commanders on force status. This enterprise-class, command-wide approach was far more cost-effective than independent, base-by-base deployments and it reduced our costs per base by more than 50%, including additional cost savings in training, maintenance and other operations."
— Robert Tharp, AFRC EMS program manager, Air Force Reserve Command (AFRC)
"…we used AtHoc to alert the general population of increased force protection levels and potential danger."
— Jim Spofford, Regional Exercise Planner, Naval District Washington (NDW)
---
TRIED AND TRUSTED
• BlackBerry AtHoc is recognized as the #1 provider of crisis communication solutions to the US Department of Defense and US Department of Homeland Security.
• Used by more than 80% of the US government
• Previously recognized by Gartner, Inc. as a leader in its Magic Quadrant for Emergency Mass Notification Services
• Chemical plants, hospitals, municipalities, air force bases – BlackBerry AtHoc ensures a new level of safety and security in any venue.
• BlackBerry AtHoc was used during Japan's Fukushima Daiichi nuclear disaster;
• Microsoft depends on our system to track affected staff during a crisis;
• AtHoc steered students and staff away from a twenty-million-gallon pool of disaster during a 2014 water main break at UCLA.
• Parliament of Canada went from over 90 minutes to 90 seconds for to reach all Members of Parliament and staff about operational risks.
Your organization deserves the leader in networked crisis communication. Contact our experts to get more information