Professional audiovisual systems for meeting rooms

Solutions with additional functions (lighting control, climate monitoring) in a large and a small meeting rooms of the office in order to provide full-fledged technical support of business events of various levels and directions.

Comprehensive high-tech systems for meeting rooms facilitate the creation of an effective business environment for:
• holding meetings, business appointments, presentations, including remote ones;
• organization of training events – seminars, workshops, webinars.
Functionality of the solutions:
• the meeting room reservation is carried out via MS Outlook software that has the ability to display the schedule of planned events both in the Outlook calendar and on the panels before the entrance to the rooms;
• Full HD image is displayed: on a motorized screen, 2 LCD panels and a touch screen on a moderator desk in the large meeting room; on a LCD panel in the small one;
• the possibility of simultaneous transmission of differentiated visual content (graphics, video, tables, etc.) from various sources to the involved display facilities: the projector reproduces images from a mini PC integrated into the system, the panels can additionally display information from a laptop (with VGA and HDMI interfaces) and mobile devices (the function is provided in the large meeting room) via a wireless connection;
• the organization of mono- and poly-videoconferencing using various applications and protocols (H.323, Skype, etc.);
• the audio and video recording of events held in a meeting room and their transmission into a corporate network;
• the display of main climatic indicators (carbon dioxide level, temperature) for their prompt adjustment;
• the lighting, roller blinds' and conditioner control in the meeting rooms.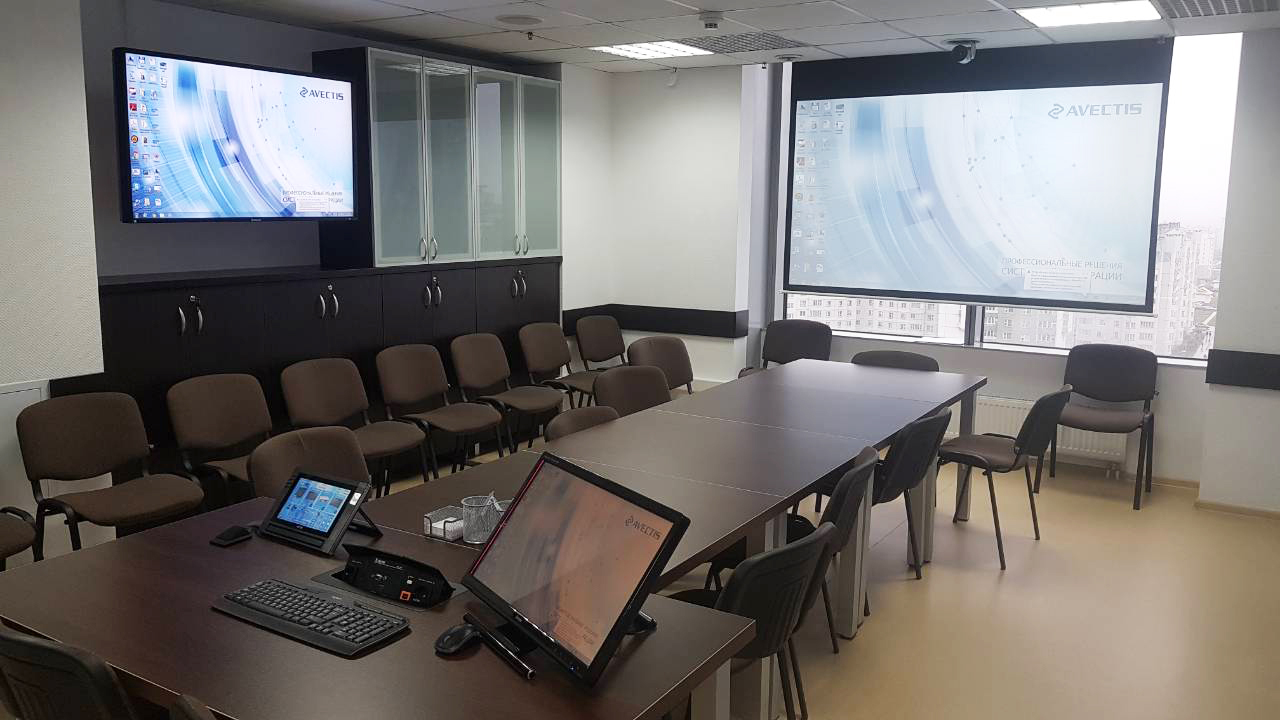 The multimedia system of the meeting rooms is based on:
- the equipment for information display:
• Optoma projector, which provides a clear and bright image even in case of insufficient darkening of the room;
• three professional 55" Mitsubishi Electric LCD panels;
• Lumien screen (width: 220 cm) with a silent synchronized motor and smooth start;
- high-quality Extron switching equipment;
- Polycom software and Vaddio videoconferencing equipment;
- Vaddio PTZ cameras with 12x zoom and 73° horizontal field of view in a super-wide mode;
- automation system control platforms developed by global companies AMX and Iridium.