High Performance Fault-tolerant Storage



High Performance Fault-tolerant Data Storage System
Maximum throughput and compute density
Server: Supermicro SuperServer 6029P-TRT
JBOD: Ultrastar Data102
SW: RAIDIX 4.6

To create а fault-tolerant data storage system, it takes two storage nodes and one or more JBODs with SAS disks. This reference architecture uses either 2x Supermicro® 6029P-TRT platforms or 1x Supermicro SuperServer® 2029BT-DNR platform (for space constrained environments) connected to 1x Ultrastar® Data102 JBOD storage platform. The RAIDIX software controller function runs on top of the Supermicro nodes.
For purposes of server sizing, the PCIe bus is used to install backend and frontend controllers. Broadcom® 9400 8e controllers are used to connect the Ultrastar Data102 storage platform to the Supermicro servers. The synchronization channel slot is Infiniband™, supported by Mellanox® ConnectX-4 VPI adapter card (PCIe3.0 x16) on each node.
The server(s) is equipped with Micron® NVDIMM modules to protect the cache from power outage. Dirty cache segments will be synchronized via InfiniBand 100Gb.
The Ultrastar Data102 can be equipped with Ultrastar DC HC510, HC520, or HC530 (when available) SAS HDDs, providing a data repository of up to 1.4PB1 in a 4U storage rack. Minimum configuration is 60 drives, providing an upgrade roadmap of up to 102 drives. If a performance tier is required, it is possible to install up to 24 SAS/SATA SSDs in the drive slots.
Space optimized
Server: Supermicro SuperServer 2029BT-DNR (dual node)
JBOD: Ultrastar Data102
SW: RAIDIX 4.6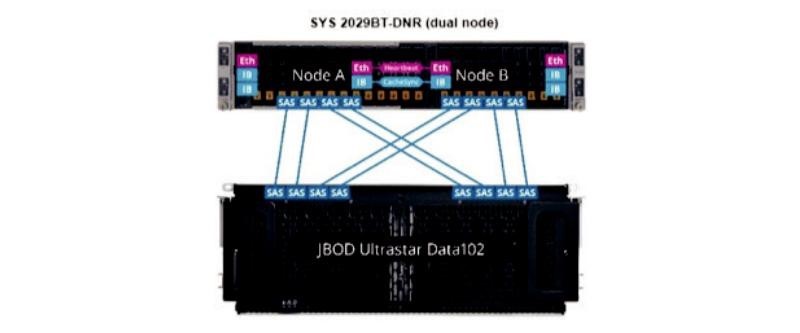 Target Applications:
HPC (Academic research, life sciences, earth sciences)
Media & Entertainment (Non-linear editing, VFX applications, rendering)
Video Surveillance (city security services, large transport hubs), up to 500 Full HD cams
Disk backup target
Enterprise File Services: Home directories, file shares
Web-scale building bloc